SANTA IRINI VENUE
– Santorini Weddings –
The beautiful Santa Irini Wedding venue at Fira Santorini by the Caldera side offers uninterrupted panoramic sea views with the Volcano of Santorini in the background.
Weddings
An enchanting outdoor wedding venue overlooking the Aegean Sea, ideal for those couples who are looking for a sea front wedding location with views across to Santorini Volcano Harbor. Designed to be an a perfect wedding venue for Sunset weddings ceremonies, it is a dream come true for those who wish to exchange vows with a mild sea breeze and Photography spots. The perfect venue for a charming, romantic wedding ceremony for weddings for up to 50 guests, or an intimate banquet with a Mediterranean signature. Add the warm glow of a Santorini sunset and you have all the ingredients of once-in-a-lifetime Caldera celebration.
If you'd like to discuss the wedding options please speak to our Santorini Weddings Wedding Coordinator on + 30 6944803339 or contact us at any time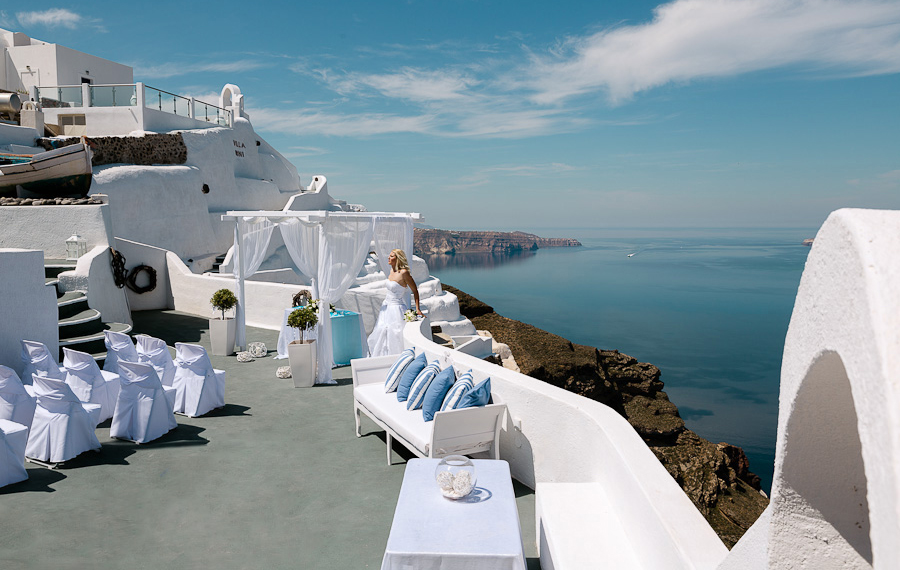 Santa Irini wedding Venue: The chapel of St. Irini,  has magnificent view  of the Santorini Caldera and the volcano,  fantastic sunsets. A perfect wedding venue with very low cost.
Santa Irini Chapel is a traditional whitewashed chapel over looking the Santorini volcano, the ocean of the caldera side of Santorini and the fantastic every day sunsets which is perfect for your romantic wedding ceremony in Santorini. Exchange wedding vows with the backdrop of the Caldera & Aegean Sea. The ceremony can take place at sunset, the most magical time of the day or during the day time which is also perfect for pictures.
Santa Irini Chapel is one of the most spectacular locations to have your wedding in Santorini and probably the Greek islands. The wedding ceremony takes place on the terrace high above the Caldera cliffs of Santorini, overlooking the volcano and the deep blue Aegean Sea.
This is a wedding venue, located on the Caldera road between Fira and Pyrgos village. The location has a fantastic view and it is surrounded by buildings in typical Cycladic architectural style.
All inclusive wedding package for Villa Irini wedding venue for Ceremony and Pyrgos restaurant for Reception for up to 20 guests  Here
– VIEW SANTORINI IRINI WEDDING VENUE ON GOOGLE MAP –
– Villa Irini Fira –
For Villa Irini Wedding venue reservation, contact us at any time Here